Celebrating New Year's Eve at home can be a super fun experience, but sometimes it feels even better to change things up and welcome the New Year in a new location. Don't know where to go? Here are the best places to spend NYE.
Dubai
If you think Burj Khalifa looks mindblowing every day, wait until you see it on New Year's Eve. The tallest building in the world welcomes thousands of people to its doorstep every year as they wait for the midnight. The fireworks show is truly amazing. Just a few minutes away is Burj Plaza, a little quitter and more family-friendly spot, but equally fun. Dubai is also one of the best foodie and shopping destinations so you'll definitely find something fun to do before you go to celebrate.
Rio de Janeiro
Do you want to greet a new year together with 2 million other people in a warm and pleasant beach location? Rio is your destination! The main gathering starts at Copacabana Beach where you can find a variety of musical acts and watch the fireworks. If you want to party in Rio style, there are also dozens of great bars with an amazing reputation. You'll definitely catch the party fever when you see the locals dancing and celebrating like there's no tomorrow!
Sydney
The first major international city to greet the New Year is Sydney. Due to the fact that this metropolis is full of tourists and locals craving to party, celebrate, drink and enjoy the gorgeous weather, Sydney became one of the best NYE destinations in the world. You can grab some pretty affordable Sydney NYE tickets and wait for the midnight at the best vantage point in the whole city. Royal Botanic Gardens offer some of Sydney's most iconic views of the Opera House, the harbor and boats and, of course, the fireworks—probably the best in the world!
Copenhagen
Danes might have a reputation that they are cold and reserved, but not during the NYE celebration. If you hit the Town Hall Square, get ready for a rowdy, BYOB bacchanal of champagne, colorful rockets and fizzing Roman candles. When the Danes leave their famous hygge behind and replace it for pure hedonism, you'll be treated to some good old mayhem (it's all in good fun though). Don't want to haul your own alcohol? Expect plenty of glögg stalls that will definitely warm you up.
Barcelona
If you're a night owl, visit Barna. This city doesn't even start to celebrate until 11 pm where crowds start to gather at Placa d'Espanya to enjoy the midnight fireworks display from Montjuic, the hill above Barcelona. Just a few meters away, Poble Espanyol, the open-air architectural museum hosts a huge dance party every year that lasts until early morning hours. Spaniards also have some pretty weird NYE traditions like eating grapes and throwing their Cava bottles in the middle of the square, so watch your head!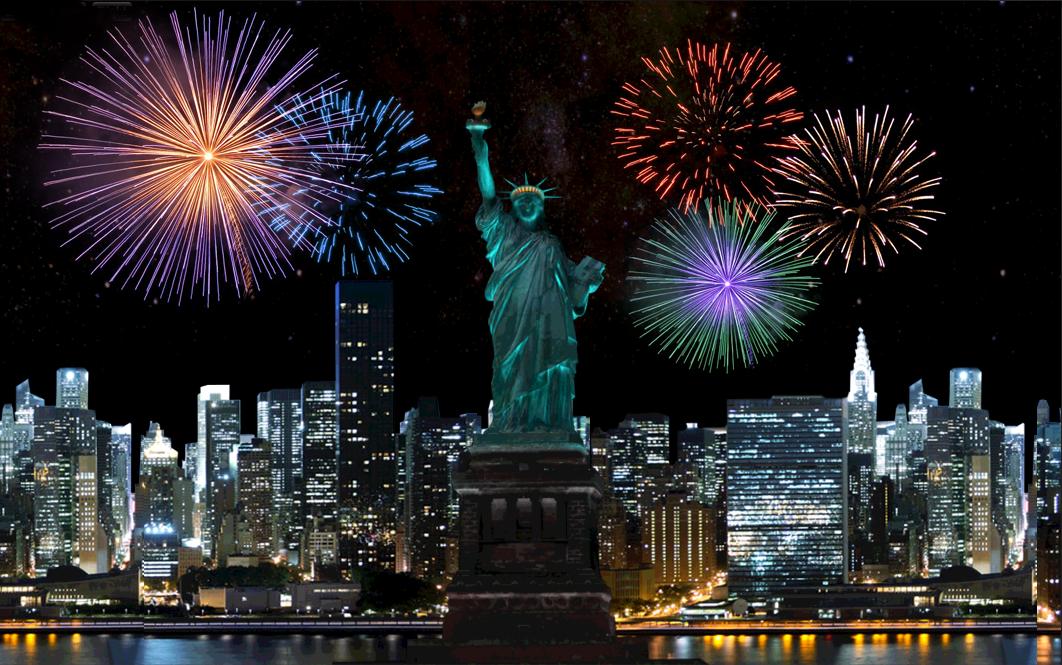 New York
Times Square is one of the first destinations people think about when picturing a New Year's celebration. Even if you never went, you probably watched the big ball drop on TV or news. However, Times Square can be very crowded during the evening, so if you don't feel comfortable being surrounded by over one million other people, there are various other options New York offers. You can hit Grand Army Plaza and enjoy fireworks and relaxation (get there early to grab the best position). Or if you're 21 and over, you can try your luck at Resort World Casino that traditionally throws mind-blowing parties every year.
Las Vegas
Every day is party day in Vegas, but the city really goes all out when it comes to New Year's Eve. The famous Strip is closed for vehicles so pedestrians can take over and really let go. At midnight, several casinos light up their impressive fireworks display so you can catch a light show wherever you turn. If you catch a roof party at one of the hotels, you'll be really mind-blown. Just make sure to book your rooms early, because prices skyrocket during the holidays. And don't get fooled by the dessert climate—it gets cold at night.
You can undoubtedly throw a great party at home, but a change of scenery will ensure you welcome the New Year in style. If you want to turn over a new leaf in life, this is one of the best ways to start!