Dresses make us women look quite feminine because they are stylish, comfortable and we stay cool in the heat more easily when wearing them. We feel incredible in them and when we find ones that perfectly accent our best body attributes, we feel like never taking them off. The summer of 2019 has come and we are happy to make room in our wardrobe for new amazing dresses that are a hit this year!
Floral and striped cotton wrap dress
This year, a dress which combines floral details and stripes is quite a hit! It will make an elegant addition to your wardrobe, and you will feel comfy in it. Choose one that fastens at the waist with a tie belt to look glamorous. It goes perfectly with a medium-sized basket bag.
Printed maxi dress
Maxi dresses are extremely comfortable and airy. They have other benefits as well, like covering your legs when it is too hot outside so that they do not get exposed to the sun rays. Yet, your legs will remain cool because of the flowing nature of the dress.  It looks great on both slim and curvy women. The best thing is that with them, you can wear shoes you find the comfiest. You can check out what some of the hot Réalisation Par dress options are for his month and find a dress that fits you perfectly.  You can find plenty of beautiful pieces online and you'll look like those gorgeous women in magazines.
India button-up two-piece dress
You can see a lot of stars and models showing off their statuesque bodies in beautiful button-up two-piece dresses this year! You can buy it yourself and choose any color you like. Just like with the floral and stripe cotton wrap dress, match it with a perfect basket bag and heels of neutral color (for example, beige).
Floral-print mini dress
Every woman should have at least one dress of this kind in her closet. However, since they are irresistible and we look fabulous in them, you probably have a bunch of them as a part of your collection. You can combine them with heels or flats. They are very comfy and pleasant to wear during the most scorching days.
Floral short-sleeve wrap dress
Another trendy option you cannot make a mistake with! They look incredibly stylish and feel even better on your body. It seems like floral print is something that never gets old and every year, there are pieces that must become a part of our summer collection.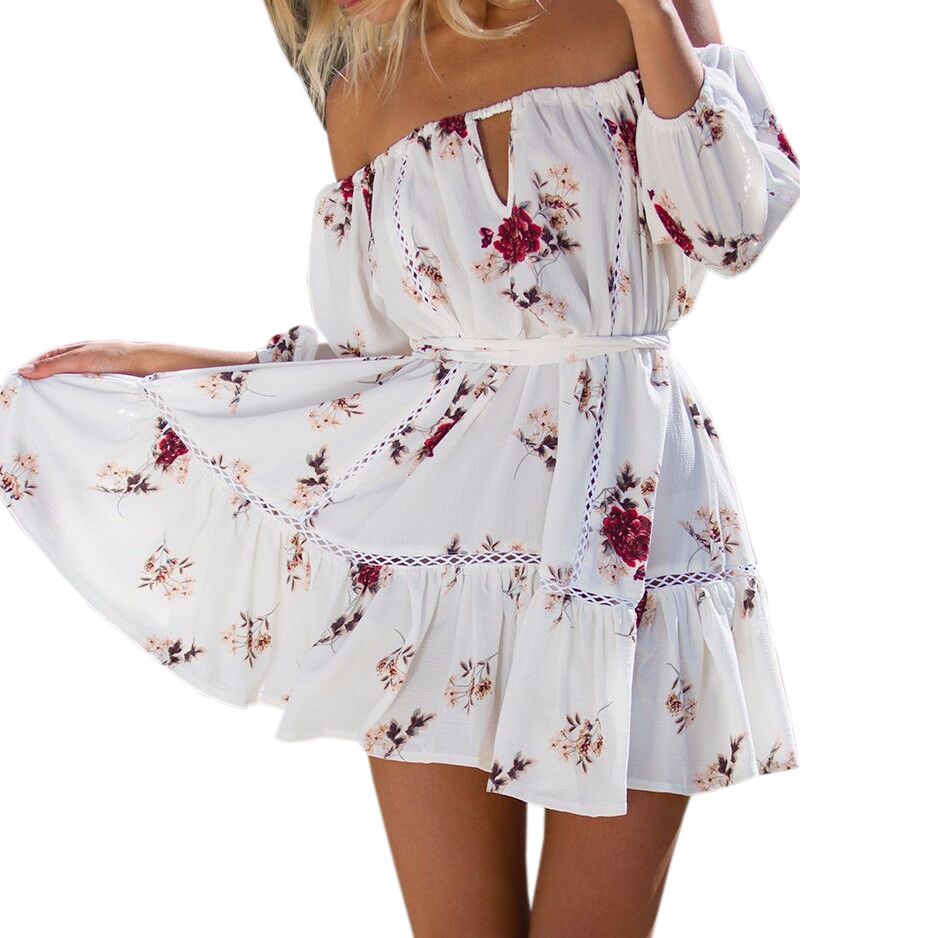 Cotton puff sleeve mini dress
Puff sleeves look cute as a button! Wearing a mini dress with sleeves like this is reserved for both thin and curvaceous ladies. If you are petite, this should definitely enrich your collection of dresses for the summer. If you match it with the right pair of sandals – get ready for compliments!
Leaf print chiffon maxi dress
If you want to look fashionable this year, go for a leaf print chiffon maxi dress. You get the best of this look if you are tall and slim. No matter if you are a blonde, brunette or redhead, feel free to choose vibrant green shades.
Ruffle sleeve cotton maxi dress
We have already mentioned puff sleeves and cotton mini dresses, and now let's discuss ruffle sleeves and cotton maxi dresses. If you buy a dress like this in any color, thumbs up! They look extremely adorable and ladies who are plumper can benefit from them. It does not need to come in any print or have a lot of details. A plain one should do the work.
Tie-shoulder mini dress
An interesting item of clothing that is quite popular in 2019 is a tie-shoulder mini dress. You can wear this during the day but it can also be good for going out at night. A black dress of this kind paired with your favorite black heels (or any other color of your preference) will make you look stunning.
If you like the list, rush off to the closest store and find pieces like the ones mentioned in the article. They are trendy, comfy and really nice-looking. Find the ones in colors you prefer and combine them with your favorite footwear and accessories.